Post any TF2-related news here.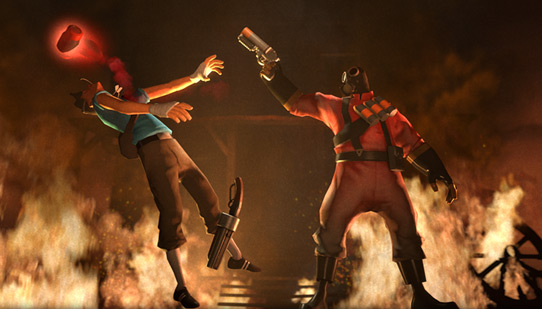 Team Fortress 2 Update Released

Product Update - Valve

Updates to Team Fortress 2 have been released. The updates will be applied automatically when your Steam client is restarted. The major changes include:

Source Engine Changes (TF2, DoD:S, HL2:DM)

* Added ConVars sv_rcon_maxpacketsize and sv_rcon_maxpacketbans to allow server admins to control the maximum RCON packet size and whether or not users get banned for exceeding that limit. The defaults reflect the existing behavior.

* Fixed not being able to import custom spray images on Macs

* Fixed Macs cancelling http map downloads that take longer than 30 seconds

Team Fortress 2

* Added Pyrovision!

* Added new game mode Special Delivery and map Doomsday!

* Friendly players glow when carrying the flag

* Fixed rare cases where flag could fall out of the world

* Fixed cases where the Payload HUD looked like the cart is still on a hill when it isn't

* Fixed cases where some clients didn't receive broadcasts about long continuous particle effects being started or stopped

* Updated the HTML renderer for displaying server MOTD

* Votes created by a dedicated server no longer trigger a failed vote cooldown

* Fixed map triggered annotation events not working on dedicated servers

* Fixed the game crashing if tempents are created that use invalid materials

* Using a Name Tag while in game notifies everyone of the name change

* Fixed Strange Part: Projectiles Reflected not tracking grenade and sentry rocket deflections

* Added new items

o City on Fire item sets
o Pyroland weapons and cosmetics
o Community-contributed cosmetic items for all classes
o Mysterious treasures have been incinerated, but are now craftable
o Added crafting recipe for Pile of Ash
o Scorched Keys are now available in the store for a limited time
o New promo item

* Weapon balancing changes

o Gloves of Running Urgently


- Removed self-damage over time penalty
- Heavy takes mini-crits while active and for 3 seconds after switching away
- Attack damage penalty reduced from -50% to -25%

o Tomislav


- Spin-up speed bonus reduced from +40% to +10%

o Quick-Fix


- Medic mirrors blast jump of their heal target

o Crusader's Crossbow


- Reload speed time reduced by +40%

o Cozy Camper


- Regenerates 1 heath per second
- Reduced movement penalty from -90% to -80%

o Sticky Jumper and Rocket Jumper


- Added 'flying' sound to blast jumps

o The Concheror


- Changed rage building source from "damage done and damage received" to only "damage done"
- Increased the rate at which Rage builds for this item by +25%

o The Equalizer


- Removed player move speed modification and added it to a new item named The Escape Plan
- All owners of the Equalizer will be automatically granted The Escape Plan

o Crit-a-Cola


- Added +25% increased movement speed while active
- Increased duration from 6 to 8 seconds

o Atomic Bonk


- Increased duration from 6 to 8 seconds

o All Flamethrowers


- Increased base damage by +10%.

o Backburner


- Removed +10% damage bonus attribute
Note: Because of base damage increase, damage remains unchanged

o Degreaser


- Added -10% damage penalty attribute
Note: Because of base damage increase, damage remains unchanged

o Phlogistinator


- Damage defense while taunting reduced from -90% to -75%

* Item bug fixes

o Fixed sentry sometimes spawning in shielded mode while the Wrangler was equipped, but not deployed
o Improved visual and audio cues for when the Manmelter is ready to fire
o Fixed Manmelter being able to earn crits via friendly Pyro self-damage
o Fixed Scotch Bonnet's blue team skin not showing
o Fixed Unarmed Combat's taunt not working
o Unarmed Combat's color now matches the team using it
o Fixed the Apparition's Aspect showing a burning texture in DX8
Posts: 442
Joined: Thu Aug 07, 2008 9:13 pm
---
I like the balance changes. Came as a surprise too, took them awhile too (the split equalizer). I have a feeling most would wind up using the escape plan though.

The pyroland vision is FABULOUS. On the other hand, Server plugins broke. So I am not a happy admin (even if it's not technically Valve's fault).
Site Admin
Posts: 2067
Joined: Thu Aug 07, 2008 6:49 pm
Location: Sweden, Höganäs
---
I'm pretty happy with the balance changes too. Not sure how to take the increased flamethrower damage though...

And pyrovision is pretty odd. I don't think I'm going to use it. It does make dark areas appear brighter I noticed
Posts: 46
Joined: Tue Jun 01, 2010 2:07 pm
Location: Johnston, IA
---
Hotfix that went out last night in Wulfie-style:
Team Fortress 2 Update Released

Product Update - Valve

An update to Team Fortress 2 has been released. The update will be applied automatically when you restart Team Fortress 2. The major changes include:

* Added sd_doomsday to the mapcycle files

* Fixed exploit that allowed Beggar's Bazooka to indefinitely hold rockets in the chamber without misfiring

* Fixed hatless hats not not-drawing correctly

* Fixed bugs with The Hitman's Heatmaker

o Headshot kills now properly decapitate
o Bodyshot damage penalty is properly applied
o Fixed sound issues while in focus

* Fixed missing DX8 particle effects

* Fixed seeing through Sniper fences in 2Fort when using Pyrovision

* Fixed the second style for the Robot Chicken hat

* Teddy Roosebelt can now get assist credits

* Updated sd_doomsday:

o Players can now fall into the launch pad after the rocket lifts off
o Optimized some prop_dynamics to reduce server hitching
o Engineers can no longer build teleporters behind the spawn
o Players will no longer get pushed through the terrain if the elevator falls on them
o Death pits now kill dead ringer Spies
o Lowered the frequency of announcer lines
Good changes all around. Here's my two cents on the changes:
GRU
: Removed GRU skipping which is a plus. The mini-crit debuff seems like it'll prevent the Heavy from making a presence in middle until high mobility classes have already setup which is fine. I'll probably still roll with them because Heavy is so slow

Tomislav
: Might be too big of a nerf. You're taking a 50-100 DPS drop at short/medium range just to be stealthy, not sure it's worth it.
Quick-Fix
: LOVE the change to follow jumpers. Hilarious to fly through the air as a medic. Uber is still subpar and lack of overheal hurts, will still continue to roll normal medigun.
Crusader's Crossbow
: They finally fixed the reloading times so this might be viable again, gonna play with it in the coming days. At medium/long range the crossbow can actually out-heal the medigun :O
Everything else
: All the other changes were expected or seem okay. A Baby Face's Blaster scout using Crit-a-Cola will literally be sonic.
City on Fire weapons
: Nothing too glaringly overpowered for once, bravo Valve. (I've still got my eye on you for the scout/medic laser weapons
) Beggar's Bazooka might be stronger in a normal pub environment than the rocket launcher but everything else seems to have a good smaller niche use.
[
Server Rules
][
Contesting a ban
][
Contacting an admin
][
Server Mapcycles
]
Posts: 985
Joined: Fri Aug 08, 2008 11:05 pm
Location: Engine room
---
My only problem is the new scout Shotgun. It seems like it has one too many debuffs. You start off incredibly slow, you deal drastically reduced damage even on a full meat shot, and you can't jump if you want to retain your ability to escape. Even when you get moving at the really high speed, the idea seems to be to run circles around someone shooting, but your shots do so little damage in practice, and you don't have like, the FAN/Sodapopper fast shot, that you end up being really obnoxious but not killing anyone.
Posts: 1520
Joined: Sun Mar 01, 2009 7:21 am
Location: Great State of Texas
---
Quick-Fix is best for the mobile medic who wants to tag along with a rocket/sticky jumper. It really allows for some nice mobility when you coordinate with someone, like I did last night where me and a Soldier jumped up onto the enemy's 2Fort battlements and surprised them with a dumpster Soldier + Medic tagteam.

I don't think it works with flare-jumping though. Or maybe I just didn't notice the effect.
Posts: 350
Joined: Fri Oct 01, 2010 12:59 am
---
Played a game earlier as quick-fix medic tied to a sticky-jumper caber demo. Funniest game I've ever played.
[
Server Rules
][
Contesting a ban
][
Contacting an admin
][
Server Mapcycles
]
Posts: 985
Joined: Fri Aug 08, 2008 11:05 pm
Location: Engine room
---
---
Users browsing this forum: No registered users and 2 guests