POOT DISPENSA HEER

"YOU DID WELL!"

"YOU SIR, PERFORMED SATISFACTORY!"
Posts: 442
Joined: Thu Aug 07, 2008 9:13 pm
---
Posts: 95
Joined: Tue Sep 22, 2009 1:51 am
Location: Walkersville, MD
---
I'm new to the game but I got a few screen shots.
"nomnomnom omnom Whats that sasha? Kill them all? Good idea!"
The latest in heavy fashion! Arrow through cheek!
Dramatic sandvich heavy is dramatic.
Posts: 6
Joined: Sat Oct 10, 2009 4:16 am
---
I think I pissed off Red Team.
SNIPER FROM HELL
(lol sniper getting hit by both fire and manly explosions of doom)
ZOMG GUYS I ACTUALLY SAW THE TROPHY BELT IN GAME
Posts: 256
Joined: Wed Oct 08, 2008 5:00 am
---
Not precisely according to standards, but I'll be damned if you call me anything other than too lazy to post a new thread for this sort of thing.
Posts: 256
Joined: Wed Oct 08, 2008 5:00 am
---
Posts: 100
Joined: Sat Jun 06, 2009 3:08 am
---
Indeed. A full video of the RMF event stuff we recorded today will be coming this week, when I have time to make it pretty.
Posts: 1520
Joined: Sun Mar 01, 2009 7:21 am
Location: Great State of Texas
---
the size, it's off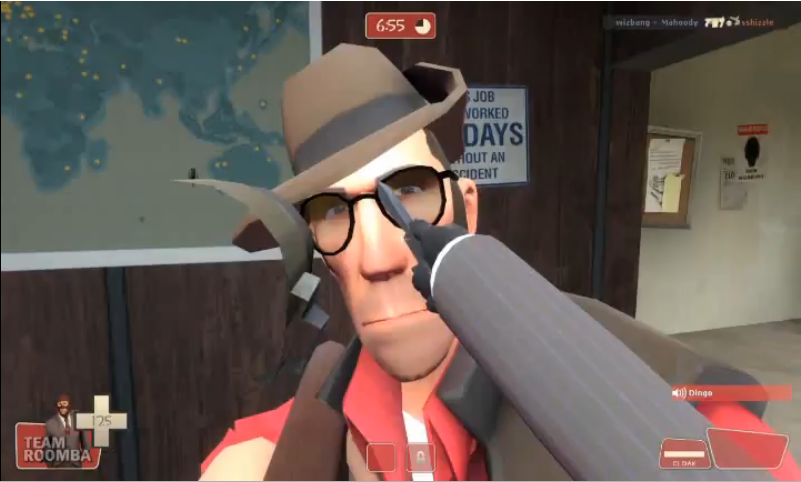 Posts: 113
Joined: Wed Nov 04, 2009 1:58 pm
---
---
Users browsing this forum: No registered users and 7 guests